Visual Studio Code ( VS Code )
Free. Open source. Runs everywhere.
Code focused development. Redefined.
Code, Build & Debug modern Web & Cloud applications.
Code combines the simplicity of a code editor with what developers need for the core code-build-debug cycle.
Code is Free and available on your favorite platform
Very quick to install and packed full of features to allow you to work on your code anywhere and still just in preview release.
The core editor is Monaco Editor packaged in the electron atom shell, formerly known as Atom Shell and made by GitHub.
The Monaco Editor is also widely used across Microsoft products like Visual Studio Team Services, TypeScript Playground, OneDrive, App Service Editor, IE11 F12 tools, plus many more places.
Microsoft evolution of VS Code began more than 4 years ago, todays product is one of the largest TypeScript code bases at more than 350k lines of TypeScript.
Both Monaco Editor & Visual Studio Code are Open Source available on GitHub.
The Integrated terminal is a great feature, really helpful.
Visual Studio Code 1.71 - Release
Yet again another excellent release by the VS Code team, packed with new features, now including:
Merge editor improvements - Easier transition between text and merge editors.
Expanded codecs support - To help display embedded audio and video in notebooks and webviews.
File rename selection - Pressing F2 selects filename, whole name, or file extension.
New Code Action UI - Quickly find the Code Action you're looking for.
Terminal updates - Shell integration for fish and Git Bash, new smooth scrolling.
Jupyter notebook image pasting - Paste and preview image files in notebook Markdown cells.
TypeScript livestreams - Watch TS "Crash Course" or "Tips and Tricks" on YouTube.
Live Preview extension - Live Preview now supports multi-root web projects.
Markdown Language Server - Learn how Markdown support moved to a Language Server blog post.
VS Code now ships with TypeScript 4.8.2
Documentation
Getting started with VS Code focusing on ways to make getting started with the editor easier.
A new "Learn to Code" landing page on the website with coding packs and new content geared towards folks who are new to coding.
Also a new student-friendly videos and resources on the site at code.visualstudio.com/learn
TypeScript Editing and Refactoring in VS Code.
Remote Repositories Blog Post
New Remote Development resources - Check out the new video and Learn module.
New Beginner's Series to: Dev Containers, a set of eight videos that show you how to get, create, and configure a container-based development environment using VS Code Remote - Containers
You can also try the next TypeScript features today by installing the TypeScript Nightly extension.
Plus so much more, make sure you read the Release Notes, loads of great information within them.
Find out more at Visual Studio Code Update or Download.
Remote Development
A preview release of the Remote Development extensions has been released.
A new set of extensions that enable you to open any folder in a container, on a remote machine, or in the Windows Subsystem for Linux (WSL) and take advantage of VS Code's full feature set.
These extensions let you work with VS Code over SSH on a remote machine or VM, in Windows Subsystem for Linux (WSL), or inside a Docker container. You can read the Remote Development with Visual Studio Code blog post to learn more.
Visual Studio Codespaces - Create and connect to cloud-based development environments formerly Visual Studio Online.
The Visual Studio Codespaces preview, announced at Ignite 2019, allows you to create development environments in the cloud and connect to them with Visual Studio Code, a browser-based editor, or Visual Studio IDE.
Visual Studio Codespaces extension
You can learn more at
Developing with Visual Studio Codespaces
and get started creating and customizing a development environment with the
Visual Studio Codespaces Quickstarts
.
GitHub Codespaces
Codespaces are also available on GitHub. Take a read of the Codespaces feature page for more information on getting started with a full Visual Studio Code experience without leaving GitHub.
We have started to put together information and links on our Codespaces page.
Some of the key features from earlier releases are:
Title bar customization - Hide/show menu bar, Command Center, or layout control.
Fold selection - Create your own folded regions in the editor.
Search multi-select - Select and then act on multiple search results.
Tree view search and filtering - Find and filter in tree views such as the Find Explorer.
Terminal improvements - Shell integration on by default, extended PowerShell keybindings.
Command line option --merge - Use the 3-way merge editor as your default merge tool.
Notebooks: Go to Most Recently Failed Cell - Jump directly to notebook errors.
Python Get started experience - Quickly install and configure Python within VS Code.
Sticky scroll preview - New scrolling UI shows current source code scope.
Dev container CLI topic - Learn about the updated development container CLI.
3-way merge editor - Resolve merge conflicts within VS Code.
Command Center - New UI to search files, run commands, and navigate cursor history.
Do Not Disturb mode - Silence non-critical notification popups.
Toggle Light/Dark themes - Quickly switch between preferred light and dark themes.
Terminal shell integration - Display command status, run recent commands, and more.
Task output decorations - Highlights task success or failure exit codes.
Git Commit action button - Configure your default Git Commit action.
Debug Step Into Target support - Allows you to step directly into functions when paused.
JavaScript sourcemap toggling - Switch to debugging compiled rather than source code.
Color theme tester - Use vscode.dev to preview color themes.
You can find earlier released key features on our key feature archive page.
VS Code also has some great documentation, some of the interesting topics covered are: https://github.com/Microsoft/vscode-recipes and Deploying Applications to Azure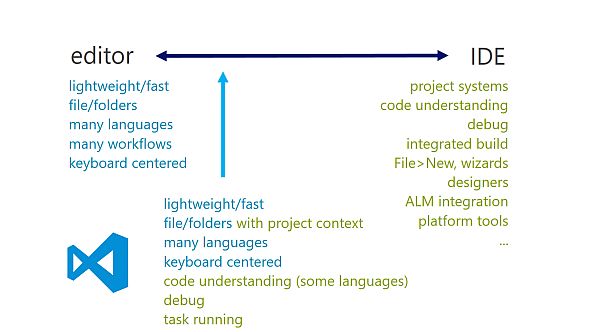 Visual Studio Code Links
References
Docs & Books
Extensions you should really check out
Insiders Build
Be sure to check out the Insiders Build which can be run alongside the stable version of VS Code but allows you to test out the new features ahead of time, before they land in the stable release.
Visual Studio Code 1.0
Released on 14 April 2016
Its hard to believe that VS Code has been with us for such a short time, with each release growing in features & functions.
The code team have relased a great blog post covering the journey to version 1. Read about the journey to version 1.0
Visual Studio Code on the Visual Studio Marketplace
Visual Studio Code now offers support for extensions and themes! With hundreds available at https://marketplace.visualstudio.com/#VSCode
A great write up to using an extension in VS Code is from Rey Bango (@reybango), Adding ESLint to the Microsoft VS Code Editor http://blog.reybango.com/2015/12/17/adding-eslint-to-the-microsoft-vs-code-editor/
We also plan to cover:
Working with Gulp
Working with tasks
Deployment
Working with Remote files
Plus much more.